GIANT CONCRETE RAMP
Accessibility enhancement or safety hazard?
The Council
has applied for a $60,000 grant
(to be supplemented by $15,000 in municipal funds) toward building a large concrete ramp over the sand next to the patio, into the deep end of Graydon, and down the edge of the water most of the way along the patio wall (see red dotted lines in photo below).
Key to letters in photo above:
A: Connected to new sidewalk over sand, ramp with handrails on both sides would extend into the water most of the way down the patio wall: from the second
"jog," it would run 34 feet plus a "landing" (which by federal regulations must be at least 5 feet long), displacing significant swimming area.
B: Ramp would cross directly in front of spillway, where it would catch debris and possibly interfere with maintenance.
C:
This area of proposed new plantings in a currently popular beach spot would become unavailable to beachgoers (see blue towel).
D: Sidewalk would start between
patio and
pavilion, over sand.
The ramp would extend significantly beyond both ends shown here; this photo was taken for other reasons and only suggests the extent of what is planned.

Compare to schematic drawing in grant (scroll to below photos).
A ramp into the deep end at the very gentle slope needed for wheelchair ingress and egress would be too long to serve as a comfortable walkway for the less firm of foot while failing to serve any wheelchair-bound or other less-abled person who did not want to enter a 12-foot swimming area--that is, most adults and all children. We have prepared
a document with more details.
More effective, less costly alternatives that promote access are easily found.
Other towns use them to the delight of their patrons with special needs. We can, too.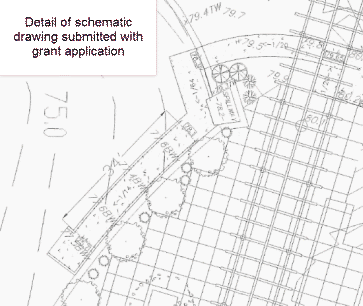 Our March 2 letter in the Ridgewood News:
To the editor:
Once again, paving threatens Graydon Pool--not the whole pool this time, but an important part of it.
The Village Council has applied to the County Freeholders for a $60,000 block grant for a concrete ramp leading into the 12-foot section of the swimming area. The ramp, including a $12,600 aluminum handrail drilled into the patio wall, would begin with a long concrete sidewalk at the corner of the bathroom building and cover the sand along the front of the Pavilion. It would circle the north spillway, then make two 90-degree turns before entering the water in a 34-foot stretch along the wall below the patio, ending with a landing platform of a few more feet.
In the grant application, posted at preservegraydon.org, the village cites as a basis for the design "our review and discussions with residents and those who use the facility." Sounds good, but no needs assessment was done. No general discussions with residents were held. And this ill-conceived plan would neither satisfy Graydon patrons nor remove barriers; in fact, it would add some.
The application states that Ridgewood would spend an additional $15,000 in municipal funds on the concrete project. Yet with modern materials and devices, the desired effect could be achieved non-invasively, less expensively and to serve a far broader population.
Allendale's Crestwood Lake, another municipal lake with a sandy beach, meets Americans with Disabilities Act requirements with a beach wheelchair that goes over sand, a floating wheelchair that goes into water and folds flat for storage (http://mobi-chair.com), and removable water-permeable roll-out mats (which Graydon doesn't need).
At Graydon, a floating wheelchair could easily enter the water at the spot near the lap lanes in the 4-foot area where part of the low fieldstone wall has been removed. This shallower area, close to The Stable's about-to-be-upgraded parking lot, would accommodate all ages and abilities, whereas a ramp into the deep end would be harder to reach and suit few or none. In any case, a water-safe wheelchair would have to be bought for water entry; metal wheelchairs are not used on sand or in pools.
Among many other problems: A ramp in the northeast corner would catch detritus floating toward the spillway, creating an unsightly safety hazard. Seniors and others desiring a firm, quick foothold into the water would not choose to traverse a 40-foot ramp. They merely want existing ramps upgraded.
Of likely concern to countless residents, whether Graydon patrons or not, is the large amount of impervious material that would be added to the flood hazard area 12 months a year in a pool used three months a year. Our village engineer noted at a recent meeting that we would never reduce flooding until we stopped paving the floodway. What part of Hurricane Irene don't we understand?
If council members want Graydon kept natural, as four claim they do, and wish to make Graydon more barrier free without exacerbating flooding, they will seek better alternatives and withdraw the application, or if the grant money is offered, refuse it.
Marcia Ringel
Alan Seiden
Co-Chairs, The Preserve Graydon Coalition
If you agree with this message, please tell the Village Council:
Write to Council
Above left: link to detailed explanation of proposed ramp/sidewalk and better alternatives
, with selected excerpts of relevant regulations
(PDF)
Above right:
link to letter to the editor,
Ridgewood News,
March 2, 2012 (NorthJersey.com)
Above left: link to grant application obtained via Open Public Records Act (PDF)
Above right: link to schematic drawing of ramp and sidewalk by Village engineer (PDF)
If you agree with this message, please tell the Village Council:
Write to Council
Till soon,
Marcia Ringel and Alan Seiden
Co-Chairs, The Preserve Graydon Coalition, Inc., a nonprofit corporation
"It's clear—we love Graydon!"
info@PreserveGraydon.org
www.PreserveGraydon.org